WHAT MAKES CHROMA CAPS A GREAT GIFT?

 Fun and easy stocking stuffer for any musician or DJ
 Multiple color options to customize any setup
 World class support to help you find the perfect fit
 Compatible with hundreds of devices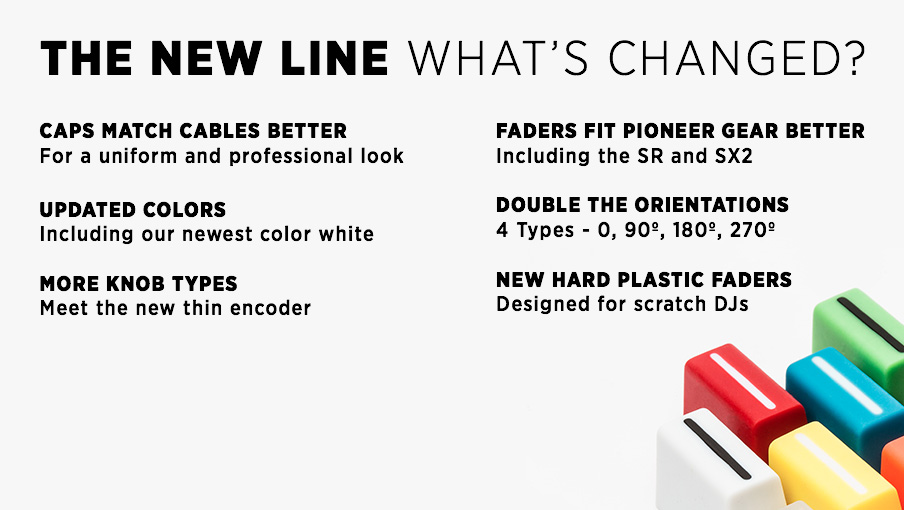 Completely Redesigned, More Playable Knobs
Every last detail was upgraded in the redesign to increase playability, including: rounded corners and softer rubber to increase comfort, bright colors with large clear markers for better visibility,  and increased widths for a more natural grip.

Knobs You Can See In a Club
Don't kill the dancefloor cause you can't tell the gain from the EQ knob. Chroma Caps come in a wide range of bright colors including glow in dark and UV reactive blends that pop under black lights. No more needless mistakes. 

Label Functions By Color
Label functions by color for more playable gear. It's 10X easier to tell an EQ from a filter when everything is labeled by color. This means you can focus on the music, not the lighting, while adding a personal touch to your beloved gear.
"Got some fatty caps for my SP-404sx! They look and feel great! Highly recommended! "
March 13, 2019
Technical Details
---
* GRAPHIC SHOWS CAP ORIENTATION WHEN SEEN FROM BELOW

Sizes
Encoder knob base diameter: 18.5mm x 15.4 mm tall
Faders: 22mm long x 12mm wide x 14.25mm tall
Faders MK2: 22mm long x 12mm wide x 14.25mm tall (improved fit for P-Lock Pioneer faders)
Fatty knob base diameter: 18.5mm x 16 mm tall
Super knob base diameter: 14.2 mm x 19.6 mm tall
Thin Encoders: base diameter: 14.2 mm x 19.6 mm tall
Knobs fit on 6.5mm D shaft pots, check the diagram above to select the right variant for your gear.
---
Ease of Install
Chroma caps are very easy to install and require no expertise or hardware. To remove your old knobs use a small coin to lever them off without bending the shaft. 

People commonly use Chroma caps as: DJ knobs, Mixer knobs, on DJ mixers, as 

replacement knobs, as Pioneer knobs, as EQ knobs, and as Potentiometer knobs. Chroma caps are great DJ Accessories
---
Warranty
Every cap is guaranteed against defect and will be replaced immediately and without any cost to the customer within the first year

We guarantee you will like them, and if not, send them back for a full refund - no questions asked. 
---
Why DJ TechTools?
---





Customer Reviews
---
"Got some fatty caps for my SP-404sx! They look and feel great! Highly recommended! "
March 13, 2019
"I had a few missing knobs and replacements were expensive. But then I found these. Way cheaper and I replaced all of my knobs(caps) everything fits perfect! Got 2 different colors for volume knobs. Highly recommend "
March 12, 2019
"Love these caps on my Pioneer DJ-RR. They feel good, fit very nice and really make the board pop.. Easier to see in low light areas. Glad they available and glad I ordered them"
March 6, 2019
"The quality of the caps and faders are excellent and the colours are vibrant too. They feel great to use and my old mixer now has has a new lease of life! Definitely recommend! Love them!"
March 6, 2019
"Chroma caps! Perfect for my DJM 800! Must have for DJs!"
March 6, 2019
"These caps increase the playability of the OP-1 significantly! Much better grip and feel has changed the way I use the instrument! A must have!"
February 28, 2019
"Simple, clean, amazing and dope touch to start customizing your sp404! LOVE THAT!!! :-)"
February 27, 2019
"Very good touch. Easy to use. Chroma caps are very great!!"
February 26, 2019
"Love how they change the look of the controller and the soft rubber is better feel than the factory plastic ones. When are you going to make skinz?? :)"
February 21, 2019